Tasmanian Wonders - Fixed Departure Guided Tour - 10 Days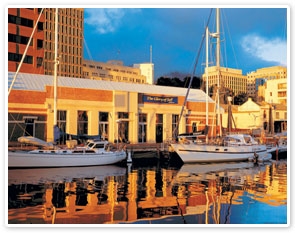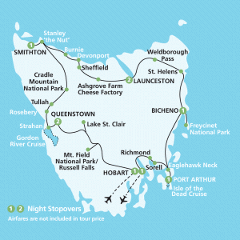 Duration: 10 Days (approx.)
Product code: LOKTS-FHH-A
It's time to tick Tassie off your bucket list! On this Tasmanian guided holiday you'll experience what the island state is world renowned for - idyllic scenery, abundant wildlife and friendly locals. Journey to Mt. Field National Park to witness the stunning natural beauty of Russell Falls then journey further to the Gordon River, Cradle Mountain, Freycinet National Park and Port Arthur. Tantalise your taste buds along the way, sampling local cheeses and other delicious treats. This holiday is ideal for those wanting a real taste of Tasmania.
Itinerary1 September 2015 - 31 August 2016 ?
Day 1
Welcome to Hobart
Transfer from Hobart Airport to your hotel for check-in and then you'll take an afternoon tour of Hobart. Your orientation takes in Battery Point, Salamanca Place, the Botanic Gardens, Constitution Dock, and Mt. Nelson for amazing views overlooking Hobart. Tonight you will meet your Tour Director and fellow travellers for a welcome dinner with fabulous views of Hobart.
Hotel: Wrest Point, Hobart.
Included Meals: Dinner
Day 2-3
Hobart – Queenstown & Gordon River Cruise
Day 2: Hobart – Queenstown
This morning you head west to New Norfolk and the magnificent Mt. Field National Park. Tasmania's oldest National Park is the location of the spectacular three-tiered waterfall, Russell Falls, which is surrounded by towering swamp gums. You'll then take the winding journey to Queenstown, along the rainforest bordered road of World Heritage protected Franklin-Gordon Wild Rivers National Park – a magnificent part of the world.
Day 3: Gordon River Cruise
Today you travel to the fishing village of Strahan on Macquarie Harbour where you'll cruise the Gordon River, while enjoying lunch. You'll be awestruck by the beauty of the dark waters, reflecting the untouched wilderness and be amazed by the 2,000 year old Huon Pine at Heritage Landing. Later, the afternoon is yours to relax and enjoy your surroundings.
Hotel: West Coaster Motel, Queenstown, 2 nights.
Included Meals: Day 2: Breakfast and Dinner. Day 3: Breakfast, Lunch and Dinner
Day 4
Queenstown – Smithton
Travel past Lake Plimsoll through Tullah on the shores of Lake Rosebery, surrounded by forests and mountains to the sensational Cradle Mountain National Park. Once there we'll take you to gorgeous Dove Lake for spectacular views of Cradle Mountain – make sure the camera's charged, this is a scenic highlight, and the air – there's none fresher! Rolling green hills and Friesian cows – this afternoon you'll think you're in a butter commercial as you make your way past Table Cape, home of tulips, for views of Bass Strait, the lighthouse and coastline. You'll then visit Highfield Historic Site, unique among colonial residences in Tasmania. It was built by the Van Diemen's Land Company and is a rare example of domestic architecture from the Regency period, which is characterised by refined decoration that is geometric yet elegant. Your final destination is Smithton.
Hotel: Tall Timbers, Smithton.
Included Meals: Breakfast and Dinner
Day 5-6
Smithton – Launceston
Day 5: Smithton – Launceston
Picturesque Stanley is in your sights as you head west with a view of 'the Nut'. Next stop is Burnie for a guided tour of the Makers' Workshop, a place that honours Burnie's history, innovators and artists. Later, travel east along the coast through Penguin and Ulverstone then south to Sheffield for a wander through this town of murals with its colourful wall paintings that adorn the town's buildings. En route to Launceston you'll visit the Ashgrove Farm Cheese Factory for a presentation on cheese making and some delicious produce testing – yum!
Day 6: Launceston
Start your day in the Tamar Valley at Tamar River Winery, where a local wine expert will treat you to a comprehensive private wine tasting. This afternoon is free to explore 'Lonny'. Maybe visit Cataract Gorge or take a cruise on the Tamar River.
Hotel: Best Western Plus Launceston, 2 nights.
Included Meals: Breakfast both days
Day 7
Launceston – Bicheno
Your first stop is Bridestowe Lavender Estate. Why not try one of their famous lavender ice creams! Later you'll see Legerwood Carved Memorial Trees in honour of fallen WWI soldiers, and then drive through the lush myrtle rainforest at Weldborough Pass. You'll visit St. Helens before arriving in the seaside hamlet of Bicheno. At dusk head out to discover Bicheno's little Blue Penguins as they come to shore.
Hotel: Best Western Beachfront at Bicheno
Included Meals: Breakfast and Dinner
Day 8
Bicheno – Port Arthur
Get your camera ready for the spectacular and breathtaking – Freycinet National Park. You'll take a walk that will unveil astonishing views across brilliant blue water, forest and golden beach. Cape Tourville Lookout is awesome! Travel through Swansea and Orford, then chart a course for Port Arthur along an impressive cliff-lined coast. You'll cross the 100 year old Denison Canal and the historic once-guarded checkpoint of Eaglehawk Neck. On arrival in Port Arthur, you'll cruise around the Isle of the Dead and then take a guided walk of the Historic Site and prison. This evening, perhaps test your nerve on an optional lantern-lit Ghost Tour of Port Arthur.
Hotel: Port Arthur Motor Inn, Port Arthur.
Included Meals: Breakfast and Dinner
Day 9
Port Arthur – Hobart
This morning, on your way back to Hobart, feast your eyes on the amazing vistas of Tasman's Arch, Devil's Kitchen and the Blowhole. Next stop at Sorell Fruit Farm for a chance to taste a range of products made from fruit grown on the property, and even take the opportunity to pick some fruit yourself! Drive through the Coal River Valley to the historic sandstone village of Richmond, site of Australia's oldest operational road bridge and a perfect spot for lunch. Cross the Derwent River on your way into Hobart, where the afternoon is free to do as you wish. This evening join your Tour Director and new-found friends for dinner.
Hotel: Wrest Point, Hobart.
Included Meals: Breakfast and Dinner
Day 10
Farewell from Hobart
Your holiday concludes this morning after breakfast. You will be transferred to Hobart Airport for your onward flight.
Included Meals: Breakfast
Note: This itinerary is valid for departures after 1 September 2015.
Book another night or a flight after 8pm and discover stunning Bruny Island or visit fascinating MONA.
Please Note: Itinerary, departure dates & prices may be subject to change.
10 Day Guided Holiday
Tour departs from Hobart and returns to Hobart
Don't Miss
Sheffield - town of murals
For the last 25 years, the pictorial history of the region has been painted on almost every blank wall throughout Sheffield! How did it come about you ask? In 1985 a public meeting was held to formulate strategies to overcome the economic decline in the region and a committee was formed, now known as Sheffield Inc. It began investigating an idea that had been successful in a town in Québec, Canada that had been faced with a similar decline. The rest is history!
Highlights
Explore Hobart's iconic sights
Visit spectacular Russell Falls
Cruise on the Gordon River with a delicious included lunch
Discover Cradle Mountain National Park on a guided tour
Visit historic Highfield House
See 'The Nut' at Stanley
Experience Burnie's Makers' Workshop
Taste delicious cheese at Ashgrove Cheese Farm
Wine tasting at the Tamar Valley's Velo Winery
Explore Launceston
Taste fresh berries at Hillwood Berry Farm
Discover Bridestowe Lavender Estate and the delicious lavender ice cream
Get glimpses of Wineglass Bay in Freycinet National Park
Step back in time at historic Port Arthur
Inclusions
Experienced Travel Director and Driver Guide
Comfortable accommodation
Travel by luxury coach
Airport transfers (see flight information below)
Dining
Full buffet breakfasts (9)
Lunch (1)
Dinners (7)
Flight Information
Any flights referred to in the itinerary are at the client's expense and are not included in the land content price.
Day 1 Flights to arrive prior to 12.30pm into HobartDay 10 Flights to depart anytime from Hobart
What to bring
Comfortable walking shoes
Sunglasses, sunscreen and hat
Water bottle
Camera
Jacket in cooler monthsonward flight. B
Departures
From 1 September 2016
$2950 adult twin $3720 single $2655 child
Departs Returns
14 Sep 2016 23 Sep 2016 Definite Departure
05 Oct 2016 14 Oct 2016 Definite Departure
19 Oct 2016 28 Oct 2016 Definite Departure
26 Oct 2016 04 Nov 2016
29 Oct 2016 07 Nov 2016 Definite Departure
09 Nov 2016 18 Nov 2016 Definite Departure
16 Nov 2016 25 Nov 2016 Definite Departure
23 Nov 2016 02 Dec 2016
30 Nov 2016 09 Dec 2016 Definite Departure
07 Dec 2016 16 Dec 2016 Definite Departure
14 Dec 2016 23 Dec 2016 Definite Departure
28 Dec 2016 06 Jan 2017 Definite Departure
04 Jan 2017 13 Jan 2017 Definite Departure
11 Jan 2017 20 Jan 2017 Definite Departure
18 Jan 2017 27 Jan 2017 Definite Departure
21 Jan 2017 30 Jan 2017 Definite Departure
25 Jan 2017 03 Feb 2017
01 Feb 2017 10 Feb 2017 Definite Departure
08 Feb 2017 17 Feb 2017 Definite Departure
11 Feb 2017 20 Feb 2017 Definite Departure
15 Feb 2017 24 Feb 2017
22 Feb 2017 03 Mar 2017 Definite Departure
01 Mar 2017 10 Mar 2017 Definite Departure
04 Mar 2017 13 Mar 2017 Definite Departure
08 Mar 2017 17 Mar 2017
15 Mar 2017 24 Mar 2017 Definite Departure
22 Mar 2017 31 Mar 2017 Definite Departure
29 Mar 2017 07 Apr 2017
05 Apr 2017 14 Apr 2017 Definite Departure
12 Apr 2017 21 Apr 2017 Definite Departure
26 Apr 2017 05 May 2017
10 May 201719 May 2017 Definite Departure
20 May 201729 May 2017
Departures
Definite Departures
Limited Seats
Fully Booked/Embarked
Port Arthur Historic Site

Gordon River Cruise

Cradle Mountain

Bidgestowe Lavender Estate

Wineglass Bay, Freycinet National Park

Richmond Bridge

Hobart