Palm Valley and 4WD Safari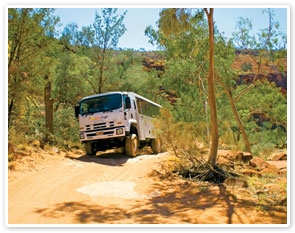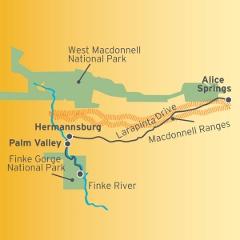 Duration: 11 Hours (approx.)
Product code: LOKAL-A5-A
ighlights
The Amphitheatre
Palm Valley
Finke Gorge National Park
Picnic Lunch
Hermannsburg Aboriginal Community
En Route
Today you're going to enjoy an outback safari-style adventure. Travelling in our customdesigned 4WD vehicle, you'll reach off-road destinations that are otherwise difficult to access. Through the Central Australian landscape we'll take you down the very edge of Finke River and into the amazing Palm Valley.
The Amphitheatre
On the way to Palm Valley we'll be right on time to see the Amphitheatre at its best. Also known as Kalarranga, this impressive group of red sandstone formations is particularly striking as the sun rises, leaving a glow of amazing light and colour across the landscape.
Palm Valley
Aptly named, as it is the only area in Central Australia where red cabbage palms survive, Palm Valley is an incredible outback oasis. Despite the harsh conditions, the gorge is supported by small pockets of spring-fed pools that ensure the survival of a diverse range of plant species. From the 4WD and on foot, you'll be amazed by the enormous rock formations, pinnacles, gorges and endless palm trees in the area.
Finke Gorge National Park
Sit back and relax as you enjoy a picnic lunch in the Finke Gorge National Park. Covering a staggering area of 46,000 hectares, it's noted for its ancient palms. The Park holds great cultural significance to the Arrernte people and there is also evidence of early European settlement.
Hermannsburg Aboriginal Community
Last stop for the day is Hermannsburg, known to the Arrernte people as 'Ntaria'. Established as an Aboriginal mission in 1877, the land was returned to the Traditional Owners in 1982. It was the birthplace of celebrated Aboriginal artist Albert Namatjira in 1902 and is renowned for its indigenous art collection. Here you can wander through the amazing artworks at the gallery and explore the historic buildings, many of which are now protected by the National Trust. Afterwards, sit back and enjoy the view as we take you back to Alice Springs. (Closed to tourists in summer months.)
DEPARTS: Mon, Wed, Fri & Sun (Apr–Sept) 7.30am from Alice Springs
RETURNS: 6.00pm approximately
QUALITY INCLUSIONS
Experienced Driver Guides, comprehensive commentary & travel in an air-conditioned coach
WHAT TO BRING
Comfortable walking shoes, sunglasses, sunscreen, hat, water bottle, camera & jacket in cooler months