Litchfield National Park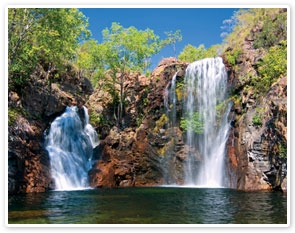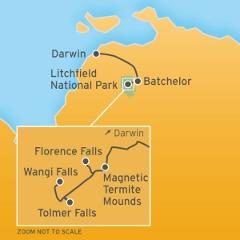 Varaktighet: 11 Timmar (cirka)
Produktkod: LOKD-D5-A
Litchfield National Park
Highlights:
Batchelor
Litchfield National Park
Florence Falls
Buffet Lunch
Tolmer Falls
Wangi Falls
Termite Mounds
En Route
Boarding early for the drive to Litchfield National Park down 'The Track' (Stuart Highway), you'll be entertained by your Driver Guide with tales both tall and true of the history of Australia's longest highway.
Termite Mounds
The termite mounds found at Litchfield National Park are the incredible architectural works of local termites. Complete with arches, tunnels, chimneys and nursery chambers, the mounds will leave you mystified. Listen and learn as your Driver Guide explains the difference between Cathedral and Magnetic mounds.
Florence Falls
The traditional custodians of Litchfield National Park are the Wagait people, many of whom still call the area home. Here you'll learn more of their life and culture from your experienced Driver Guide. You can also take an interpretive walk through scenic bush and monsoon vine forest or if you need to cool down a little, take a dip in the gorgeous plunge pool of Florence Falls before you head off for lunch.
Batchelor
The gorgeous town of Batchelor is the gateway to Litchfield National Park. Up until WWII, Batchelor was a sleepy little hollow. Then it became an allied air force base and the population grew quickly. When uranium was discovered near Batchelor in 1949, the town once again grew until the mine was closed in 1963. Today, Batchelor's townsfolk love to host visitors to Litchfield National Park and it's here that you'll enjoy morning tea (own expense) at one of their local cafés.
Tolmer Falls
One of the three major waterfalls along the western face of the Tabletop Range, Tolmer Falls is a truly spectacular sight. You'll marvel at the water cascading down into the deep waterhole at the base of the falls, which is home to several colonies of rare ghost bats and orange horseshoe bats.
Litchfield National Park
Established in 1986, Litchfield National Park is a truly stunning destination. Here you can take in the splendour of thundering falls, rainforest pockets and sacred historic sites.
Buffet Lunch
Time for a well-earned break. As part of your tour enjoy a buffet lunch at Litchfield Café. Relax, enjoy the company of your fellow travellers and recount the morning's adventure. L
Wangi Falls
Ready for another swim? Wangi Falls is the most accessible of rock pools and is a perfect spot to take another dip.
Departs: Daily 7.15am from Darwin
Returns: 6.00pm approximately to Darwin

QUALITY INCLUSIONS

Experienced Driver Guides, comprehensive commentary & travel in an air-conditioned coach

WHAT TO BRING

Comfortable walking shoes, sunglasses, sunscreen, hat, water bottle, camera & jacket in cooler months