Uluru Sunset and Kata Tjuta and BBQ Dinner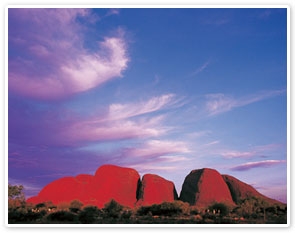 Dauer: 7 Stunden (ca.)
Produkt-Code: LOKUL-Y13B-A
Uluru Sunset and Kata Tjuta Tour with Barbecue Dinner under the Stars

Highlights:
Historic Overview
Kata Tjuta Viewing Platform
Walpa Gorge Walk
Wine and Nibbles
Uluru Sunset
Barbecue Dinner
En Route
Sit back and relax as you travel into the beautiful Uluru – Kata Tjuta National Park. You'll be amazed by the surrounds and incredible sight of Uluru in the distance.
Historic Overview
As you enjoy the view, your experienced Driver Guide will give you an overview of the fascinating history of Uluru – Kata Tjuta National Park. The Aboriginal people have lived in the area for 22,000 years, so there's plenty of history to cover.
Panoramic Views from Viewing Platform
Just 40 kilometres to the west of the iconic Uluru, we'll take in the sites of Kata Tjuta, also known as the Olgas. When you stop at a viewing platform that boasts the most spectacular views of Kata Tjuta, be sure to have your camera at the ready.
Walpa Gorge Walk
Walpa (meaning windy) Gorge is a lush desert haven for plants and animals. The gentle but rocky track will lead you into a world of rare plant species and lush evergreen shrubs known as Spearwood. Your Guide will lead you on a one hour walk through the gorge, sharing stories of local flora and fauna, and the geology of this amazing formation.
Wine and Nibbles
After the Walpa Gorge Walk, you'll head off to the Uluru Sunset Viewing Area. En route, you may see some dromedary camels casually strolling through the park. On arrival at the Sunset Viewing Area, you'll be served from a selection of Australian wines and nibbles while you absorb the enormity and beauty of your surroundings. You can just sit and relax or stroll around the area to find your own personal space to watch an amazing Red Centre sunset.
Uluru Sunset
Arguably Australia's most recognisable and fascinating icon, Uluru (Ayers Rock) stands 348 metres high, however, most of its mass is below ground level. You'll be overwhelmed by its monolithic size, presence and inherent spirituality. As the sun sets over the western horizon, you'll be witness to the majestic presence and many shades of colour for which Uluru is most famous. Be sure to have your Driver Guide take a photo of you with Uluru – although they say that the memory will stay with you forever!
Barbecue Dinner under to Stars
To make this day even more magical, dine under the stars at our exclusive outback venue. You'll experience a real Aussie style barbecue with sparkling wine. This is the ideal time to relax and swap travel stories and highlights while you take in the incredible ambience of an Uluru evening. With luck, the weather will reward you with a sky laden with stars.
DEPARTS Daily — 2.30pm (Apr–Oct) & 3.00pm (Nov–Mar) from Ayers Rock Resort
QUALITY INCLUSIONS
Experienced Driver Guides, comprehensive commentary & travel in an air-conditioned coach
WHAT TO BRING
Comfortable walking shoes, sunglasses, sunscreen, hat, water bottle, camera & jacket in cooler months
Witness and photograph the striking colour changes of Uluru at sunset while enjoying nibbles and a complimentary glass of wine. This tour also includes an Uluru BBQ Dinner. Travel to our exclusive venue to enjoy a barbecue dinner including steak, sausages, kangaroo meat, salads and bread with sparkling wine. There is time for stargazing too (weather permitting).

NATIONAL PARK ENTRY FEE $25
The entry fee is valid for 3 consecutive days and may change without notice.