Uluru Sunset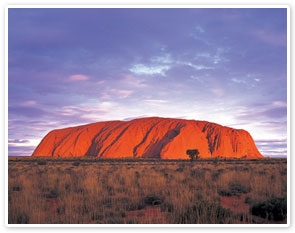 期間: 4 時間 (約)
製品コード: LOKUL-Y11-A
Uluru Sunset

Highlights:
Uluru – Kata Tjuta National Park
Wine & Nibbles
Uluru (Ayers Rock)
Uluru Sunset
En Route
Sit back and relax as you travel into the amazing Uluru – Kata Tjuta National Park. Your Driver Guide will provide details of the afternoon's itinerary while you enjoy the amazing surrounds and incredible sight of Uluru in the distance.
Uluru – Kata Tjuta National Park
As you head toward the iconic Uluru, you'll take in the sites of Kata Tjuta, also known as the Olgas. This incredible formation of rock domes extends six kilometres into the ground and is the remains of erosion that began more than 500 million years ago. It is understood that Aboriginal people have lived in this area for 22,000 years.
Wine and Nibbles
Once you're settled at the Sunset Viewing area, you'll be served from a selection of Australian wines and nibbles while you begin to absorb the beauty of your surroundings. You can just relax or stroll around the Sunset Viewing Area to discover your own personal space to watch the amazing sunset.
Uluru (Ayers Rock)
Arguably Australia's most recognisable and fascinating icon, Uluru (Ayers Rock) stands 348 metres high, however, most of its mass is below ground level. You'll be overwhelmed by its incredible size, presence and inherent spirituality.
Uluru Sunset
As the sun sets over the western horizon you'll be witness to the majestic presence and many shades of colour for which Uluru is most famous. Be sure to have your Driver Guide take a photo of you with Uluru – although the memory alone will stay with you forever!
DEPARTS Daily — 75 minutes prior to sunset from Ayers Rock Resort
RETURNS — 20 minutes approximately after sunset to Ayers Rock Resort
QUALITY INCLUSIONS
Experienced Driver Guides, comprehensive commentary & travel in an air-conditioned coach
WHAT TO BRING
Comfortable walking shoes, sunglasses, sunscreen, hat, water bottle, camera & jacket in cooler months
NATIONAL PARK ENTRY FEE $25
The entry fee is valid for 3 consecutive days and may change without notice.