Uluru Sunrise & Kata Tjuta Day Tour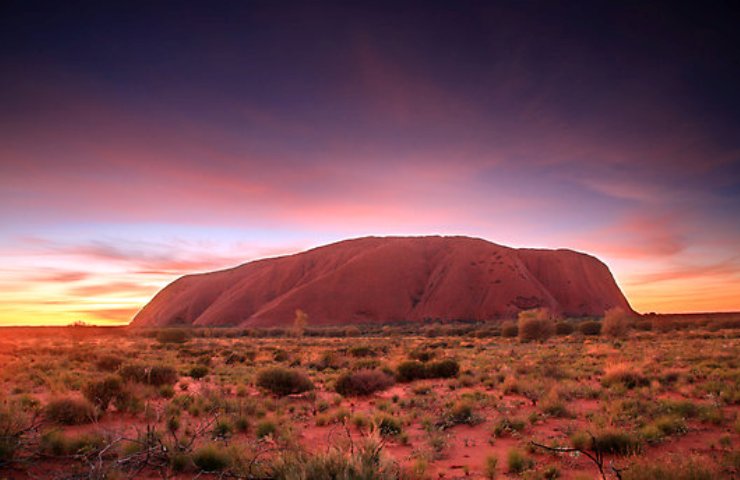 Duración: 5 Horas (aproximadamente)
Ubicación: Uluru
Código de producto: LY14
Excludes National Park Entry Fee
Language devices are bookable in French, Italian, German and Mandarin at no additional cost.


Highlights
Welcome to Uluru - Kata Tjuta National Park
Itinerary
Welcome to Uluṟu - Kata Tjuṯa National Park
Sit back and relax as you travel into beautiful Uluru – Kata Tjuta National Park. Be amazed by the surrounds and incredible sight of Uluru in the distance on your way to Talinguru Nyakunytjaku – the Uluru sunrise viewing area.
Talinguṟu Nyakunytjaku & Sunrise over Uluṟu
Simply translated, 'Talinguru Nyakunytjaku' means 'to look from the sand dunes'. The platform offers an incredible view through the dunes and stunning desert landscape as the sun rises over Uluru and Kata Tjuta. Make your way on to the viewing platform to see many kilometres into the distance, providing an ideal photo opportunity. Watch the first rays of the sun set the Red Centre alight, while enjoying a warming cup of tea or coffee.
Your experienced Driver Guide will give you an historical overview of Uluru – Kata Tjuta National Park. The Aboriginal people have lived in the area for 22,000 years, so there's plenty of history to cover. Arguably Australia's most recognisable and fascinating icon, Uluru (Ayers Rock) stands 348 metres high, however, most of its mass is below ground level. You'll be overwhelmed by its incredible size, presence and inherent spirituality.
Panoramic Views from Viewing Point
Just 40 kilometres to the west of iconic Uluru, we'll take in the sites of Kata Tjuta, also known as the Olgas. When you stop at a viewing point that boasts the most spectacular views of Kata Tjuta, be sure to have your camera at the ready.
Walpa (meaning windy) Gorge is a lush desert haven for plants and animals. The gentle but rocky track will lead you into a world of rare plant species and lush evergreen shrubs known as Spearwood. Your Driver Guide will lead you on a one hour walk through the gorge, sharing stories of local flora and fauna, and the geology of this amazing formation.
Half Day Tour
Approximately 5 hours
Departs
Daily, 90 minutes prior to sunrise from Ayers Rock Resort
Returns
10.30am (Oct-Mar) and 11.00am (Apr-Sep) approximately.
Need Accommodation?
Our special discounted rates make booking accommodation with us during your holiday both easy and affordable at selected hotels and resorts.


Language Devices Non-English commentary language devices can be requested at no additional cost however may be subject to availability. Please enquire after your booking is confirmed.
Inclusions
Tea, coffee & biscuits
Experienced Driver and Guide
Comprehensive commentary
Travel in an air-conditioned coach
What to bring
Snack for breakfast
Comfortable walking shoes
Sunglasses, sunscreen and hat
Water bottle to hold 1 litre
Camera
Warm layers in cooler months
Fitness requirement
Moderate level of fitness required. Walking on uneven surface required to complete Walpa Gorge walk, however, guests can return to the coach at any time if needed.