Great Ocean Road to Kangaroo Island - Fixed Departure Guided Tour - 7 Days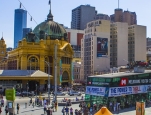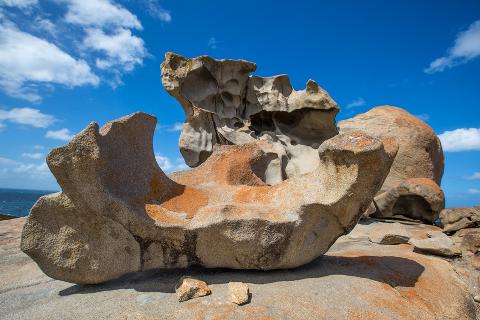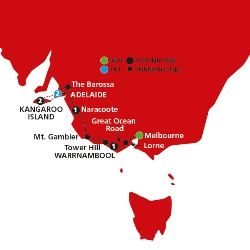 Duration: 7 Days (approx.)
Location: Melbourne
Product code: LEMKA
Itinerary1 April 2016 - 31 March 2017 ?
Day1
Melbourne – Warrnambool

As this Guided Holiday departs early morning, accommodation should be pre-booked for the previous night.
This morning meet your Travel Director and fellow travellers then strap on your seat belt and make sure your camera is charged for one of the world's great road trips – the Great Ocean Road! Enjoy spectacular coastal scenery and the quaint seaside towns of Lorne and Apollo Bay to really feel like you're on holidays. Visit the amazing Twelve Apostles. These fascinating limestone formations tower 45 metres above the Southern Ocean. Later visit Loch Ard Gorge and London Bridge before arriving in Warrnambool.
Hotel: Quality Suites Deep Blue Hotel & Spa, Warrnambool.
Included Meals: Dinner with wine
Day2
Warrnambool – Naracoorte
This morning visit Worn Gundidj at Tower Hill State Game Reserve. The area was a rich food source for the Koroit Gundidj people whose descendants retain links with this country. Your guide will provide you with an Aboriginal perspective about flora, wildlife, volcanic formations, bush existence and medicinal practices. Continue into Mt. Gambier to visit the mysterious Blue Lake and then travel on to the world renown Coonawarra wine region. Stop at Brand's Laira vineyard for a wine tasting. The vinyards's first vines were planted in 1893 when an English Sea Captain purchased a plot of land in the Penola fruit colony, naming it "Laira" after ship that traded around the Australian and New Zealand coast at the time. Afterwards you'll continue to Naracoorte, your stop for the night.
Hotel: William MacIntosh Motor Lodge, Naracoote
Included Meals: Breakfast and Dinner with wine
Day3-4
Naracoorte – Kangaroo Island
Day 3: Naracoorte – Kangaroo Island
Journey to Fleurieu Peninsula and visit the seaside town of Victor Harbor at lunchtime. You might like to take the horse-drawn tram to Granite Island or just sit back and relax with some fish and chips on the beach. Yum! This afternoon board your ferry at Cape Jervis, bound for Penneshaw on Kangaroo Island. Kangaroo Island is famous for its unspoiled natural beauty and its fresh local produce. Kick off your island adventure with a visit to South Australia's only boutique distillery to taste a selection of their handcrafted premium spirits. All the spirits are hand made in small batches onsite, so you'll be able to smell the aroma of botanicals, citrus peel or even fennel lingering as you taste the award winning Australian Gin and delicious liqueurs. Finish up with a short journey to Kingscote, and rest up for the exciting day that awaits you tomorrow.
Day 4: Kangaroo Island
Today explore Kangaroo Island! Visit spectacular Remarkable Rocks and Admiral's Arch in Flinders Chase National Park and enjoy the stunning coastal scenery, where you may even spot koalas, wallabies and kangaroos.
Later "You're invited" to Andermel Marron Farm for an experience that captures much that is very special about the island. You'll see the Marron (freshwater crayfish) tanks and enjoy a tasting of the farm's very own Two Wheeler Creek wine and farm-produced bush tucker before indulging in some marron for lunch. You can choose to try a hot or cold marron dish, or something else equally as delicious with a glass of wine before indulging a little more with dessert. It's up to you! Afterwards join a ranger at Seal Bay Conservation Park for a guided walk among a colony of sea lions.
Hotel: Aurora Ozone Hotel, Kangaroo Island, 2 nights.
Included Meals: Day 3: Breakfast and Dinner with wine Day 4: Breakfast, 'You're invited' lunch
Day5-6
Kangaroo Island - Adelaide
Day 5: Kangaroo Island - Adelaide
This morning, board your ferry to cross back to the mainland and travel to the picturesque Adelaide Hills. Visit stunning Hahndorf and enjoy its charm and hospitality as you wander down the tree lined streets. Take time to explore the quaint shops and even taste some of the town's artisan produce before sitting down with a beer in one of the town's German inspired pubs or cafes. Enjoy an orientation tour of Adelaide, the 'City of Churches', with your Tour Director before checking in to your hotel for the next two nights. This evening you've got a free night to enjoy a meal at any of the wonderful local restaurants. Did you know that Adelaide boasts more restaurants per capita than any other city in Australia? You do now!
Day 6: The Barossa
The rolling hills of The Barossa lay ahead of you and you'll have the opportunity to taste a number of the world-renowned drops! First stop is Jacob's Creek Winery. Wander through the display vineyard with a wine specialist and taste some of the award winning collection. Lunch is at The Company Kitchen, part of the South Australian Company Store. At The Company Kitchen they believe in locally produced South Australian food and that a food experience is to be savoured and enjoyed. You'll taste two local wines with canapés that featuring fresh local produce, followed by a delicious main meal of your choice. This evening join your Tour Director and new-found friends for a Farewell Dinner.
Hotel: Stamford Plaza Adelaide
Included Meals: Day 5: Breakfast. Day 6: Breakfast, Highlight lunch and Farewell dinner
Day7
Farewell from Adelaide
After an indulgent week away, farewell your fellow travellers after breakfast when your holiday concludes after breakfast. Not ready to head home yet? Why not consider a 3 night cruise on the Murray River aboard the Murray Princess.
Included Meals: Breakfast.
Note: This itinerary is valid for departures after 1 April 2016.
Please Note: Itinerary, departure dates & prices may be subject to change.
7 Day Guided Holiday
Tour departs from Melbourne and returns to Adelaide
Don't Miss
Pelican Feeding
The Pelican Man is probably the most photographed person on Kangaroo Island and he'll give you a few laughs and teach you a thing or two about pelicans, before enticing them with a feed of fish on Kingscote Wharf near the small Fisherman's Jetty every day at 5.00pm. This spectacle is definitely one to catch while you're in Kingscote, just make sure you bring your camera. You'll see the pelicans flying, landing, taking flight, swimming and diving for fish!
Highlights
Travel along the magnificent Great Ocean Road
Witness the amazing Twelve Apostles
Experience Aboriginal culture at Tower Hill State Reserve
Enjoy Barossa food and wine
Jacob's Creek winery
Watch the Sea Lions play at Kangaroo Island
Taste locally made spirits at a micro distillery
Visit picturesque Hahndorf
Indulge in local cuisine and wine on Kangaroo Island
Inclusions
Experienced Travel Director and Driver Guide
Quality accommodation
Travel by luxury coach
Airport transfers (see flight information below)
Dining
Full buffet breakfasts (6)
Highlight lunch (1)
'You're invited' lunch (1)
Dinners with wine (3)
Farewell dinner (1)
Flight Information
Any flights referred to in the itinerary are at the client's expense and are not included in the land content price.
Day prior Flights to arrive anytime into MelbourneDay 7 Flights to depart anytime from Adelaide
What to bring
Comfortable walking shoes
Sunglasses, sunscreen and hat
Water bottle
Camera
Jacket in cooler months
Departures
From 1 April 2016
$2550 adult twin $3150 single $2295 child
DEPARTSRETURNS
14 May 201620 May 2016Limited Seats
10 Sep 201616 Sep 2016Definite Departure
01 Oct 201607 Oct 2016Definite Departure
22 Oct 201628 Oct 2016Sold Out
12 Nov 201618 Nov 2016Definite Departure
03 Dec 201609 Dec 2016Definite Departure
24 Dec 201630 Dec 2016
14 Jan 201720 Jan 2017Definite Departure
04 Feb 201710 Feb 2017Definite Departure
25 Feb 201703 Mar 2017Definite Departure
18 Mar 201724 Mar 2017Definite Departure
From 1 April 2017
$2625 adult twin $3235 single $2370 child
DEPARTSRETURNS
22 Apr 201728 Apr 2017Definite Departure
13 May 201719 May 2017
09 Sep 201715 Sep 2017Definite Departure
30 Sep 201706 Oct 2017Definite Departure
21 Oct 201727 Oct 2017Definite Departure
11 Nov 201717 Nov 2017Definite Departure
02 Dec 201708 Dec 2017Definite Departure
23 Dec 201729 Dec 2017
Experience more on your holiday
To ensure your holiday is filled with memorable experiences, we have included a range of quality Optional Excursions for you to choose from and partake in, if you wish, during your holiday. We understand that everyone is an individual, and have therefore allowed some free time for you to experience different types of touring. These have not been included in the tour fare as we realise they may not appeal to all people. Our selection of optional excursions include scenic flights, helicopter rides, cruises, dinners, ballooning, fishing trips, four wheel drive tours, cultural experiences, and even camel riding.
Experiences available between 1 April 2016 - 31 March 2017
River Murray Highlights Cruise (AS23) (Adelaide)
$154 adult
Cruise the River Murray enjoying the magnificent landscapes of this picturesque region. Relax while taking a cruise on the historic River Murray and gain an insight into this unique river system. After lunch, take in the spectacular views and stop for a great photo opportunity at the lookout overlooking the township of Mannum. On the return journey to Adelaide, visit Melba's Chocolate Factory for afternoon tea (own expense) and Woodside Cheese Wrights at Woodside. *Post tour bookings only.
Adelaide Zoo Entry (Adelaide)
$32.50 adult
Adelaide Zoo is Australia's second oldest zoo, and the only major metropolitan zoo in Australia to be owned and operated on a non-profit basis. Located in the parklands just North of Adelaide city, visit and get up close and personal with some of the unique animals like the only Giant Pandas in the Southern Hemisphere and the first to live permanently in Australia, Wang Wang and Funi.
*Post tour bookings only.
Bookings
The excursions can be booked through your Tour Director. You will be asked during the early part of your tour to name those that you may wish to join, as advance reservations are often necessary. Please note that occasionally weather or seasonal conditions may not permit their operation. Some also depend on a minimum number of participants and suitable time being available.
PricesPrices indicated are Australian or New Zealand dollars
Prices are valid from 1 April 2016. Optional experience pricing is indicated in Australian dollars or New Zealand dollars depending on the country of operation and may be subject to change. Please note that reduced rates for pensioners or children may apply on some tours. Prices are inclusive of GST.